Emmanuel P. Giannelis, PhD, Chair
Vice Provost for Research/Vice President for Technology Transfer, Intellectual Property, and Research Policy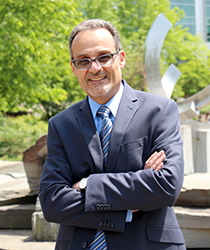 Emmanuel Giannelis serves as Vice Provost for Research and Vice President for Technology Transfer, Intellectual Property, and Research Policy. As Vice Provost for Research, reporting to the Provost, he leads the Research Division on the Ithaca campus. As Vice President for Technology Transfer, Intellectual Property, and Research Policy, reporting to the President, he is responsible for technology transfer, intellectual property, and research policy across all Cornell campuses.The Office of the Vice Provost for Research (OVPR) enables and advances Cornell research priorities, including research activities of Cornell colleges, schools, and research centers, institutes, and laboratories. The office advocates for researchers within the university, working with external agencies, sponsors, and government representatives; supports specialized research facilities and services for researchers; provides campus-wide research administrative support services; and facilitates major interdisciplinary research initiatives.
In his role as Vice President for Technology Transfer, Intellectual Property, and Research Policy, Giannelis, along with Cornell's Center for Technology Licensing (CTL), champions entrepreneurship and technology commercialization, supporting researchers and entrepreneurs as they bring scientific discoveries, technological innovations, medical advances, and new products to the marketplace for societal benefit to foster economic development within New York State and across the nation and to further Cornell's land grant mission.
Giannelis joined the Department of Materials Science and Engineering at Cornell in 1987, where he is currently the Walter R. Read Professor of Engineering. He received a BS degree in chemistry from the University of Athens (Greece) in 1980 and a PhD in chemistry from Michigan State University in 1985. His recent research focus is on design and application of nanomaterials for energy, biomedicine, and the environment. His research group is internationally recognized as one of the leading groups in nanocomposites.
Giannelis is a member of the European Academy of Sciences, a fellow of the American Chemical Society, and a fellow of the Polymer Materials Science and Engineering Division of the American Chemical Society. He received the Cooperative Research Award from the American Chemical Society in 2014. He was awarded a Doctorat Honoris Causa (honorary PhD) in July 2017 from the Institut National des Sciences Appliquées de Lyon, Université de Lyon.
William Sibert, CPA, M.S.
Associate Vice President and University Controller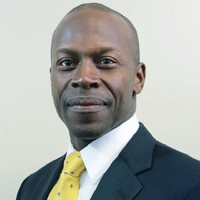 William Sibert is the Associate Vice President and University Controller for Cornell University. He is responsible for the following functions: Financial Reporting, Financial Operations, Procurement, Sponsored Financial Services, Financial Information Services, and Payroll and Tax Services. He was previously the Controller of MPI Research Inc., Chief Financial Officer at Priva Technologies, the Director of Internal Audit for General Electric Automotive Financial Services, and a staff accountant at Price Waterhouse. Bill served as an Officer of Marines for 4 years. He has a B.A. in History from Cornell University, an M.S. in Accountancy from California State University – Sacramento, and holds a CPA license from Michigan. Bill serves as a member of the Cornell McGovern Center Advisory Council, Treasurer of CCAT Observatory, Inc., and Treasurer of the Kuali Foundation.
Alice Li
Executive Director of the Cornell Center for Technology Licensing (CTL)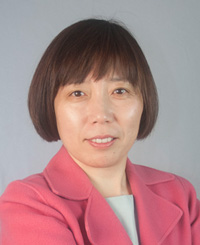 Alice Li is the Executive Director of the Center for Technology Licensing (CTL) at Cornell University. She oversees all aspects of technology management, marketing, license negotiation, outreach, and CTL activities to facilitate new venture creation in its services to all Cornell campuses and colleges. Alice has 14 years of experience in university technology transfer.
She was the Director of Licensing of the Ithaca office from 2011 to 2014, providing mentorship for licensing professionals in intellectual property protection, license negotiation, and spearheading new commercialization initiatives. Alice joined CTL in 2002 and started with hands-on management of invention portfolios, negotiations of complex deals and engagement with startup companies.  Prior to joining CTL, Alice was an R&D manager at BioArray Solutions, a NJ biotech company in diagnostic and drug discovery. During her five-year tenure there, the company grew from a two-person startup to an enterprise of fifty people. BioArray Solutions was acquired by a publicly traded company in 2008.  Alice obtained her Ph.D. from Cornell University and B.S. from Tsinghua University. She is also an inventor and patent holder. Alice has been a Certified Licensing Professional since 2010.
Robert M. Scharf
Director, The Praxis Center for Venture Development in Engineering and the Physical Sciences, Secretary and ex officio non voting member
Bob Scharf was appointed director in June 2018 as the first Director of the Praxis Center  for Venture Development in Engineering and the Physical Sciences at Cornell University. Bob came to this role with a long track record of building and launching new products and new ventures as a Director of Marketing at Thomas & Betts,  Executive Vice President of Stratos Lightwave;  and Chief Executive Officer of Protokraft. Bob brings field specific experience in Automotive, Aerospace, Computer, Telecommunications and Medical hardware development projects.
Bob earned a BSME degree from Cornell University's College of Engineering, and a Master of Business Administration from Youngstown State University in OH.