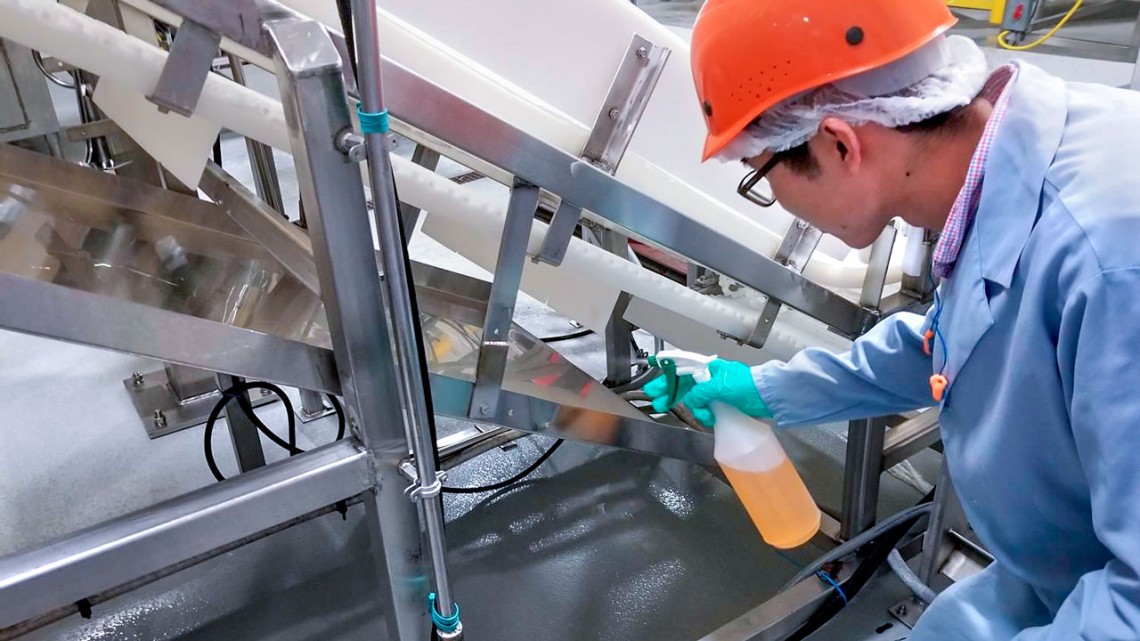 Two Cornell startup companies – Halomine, Inc. and Inso Biosciences, Inc. – have received nearly $3 million in New York state grants to thwart future outbreaks of infectious disease, including COVID-19 and its variants, and to help fortify the state's expanding life science industries.
In total, 18 grants for companies and educational institutions were awarded $15.3 million from the New York State Biodefense Commercialization Fund, via the Empire State Development agency.
The state's biodefense program – which grew out of the pandemic – was created to accelerate the development and commercialization of life science innovations that tackle infectious disease threats.
"New York state was hit first and hit hardest by COVID-19, and even as New York continues its progress in combating this virus and building back stronger," said New York Gov. Kathy Hochul. "We're taking measures to ensure we're prepared for the future."
Halomine, an antimicrobial coating technology company that graduated in June from Cornell's Praxis Center for Venture Development incubator, received $2 million. Inso Biosciences, which develops genomic sample preparation platforms and is currently housed at the university's Center for Life Science Ventures incubator, has received $955,000.
Laboratory sample prep is labor intensive, slow and prone to error, said Harvey Tian, Ph.D. '17, the CEO and co-founder of Inso Biosciences. The biotechnology startup has developed an engineered microfluidic system, consisting of a benchtop instrument and consumable "chip" cartridges – roughly the size of the microscope slide – that can rapidly process samples to improve the sequencing sensitivity of novel infectious diseases.
The method provides a way to automate the handling of biological samples while maintaining precision, minimizing the use of manual pipettes and eliminate the need for more complex biochemical assays.
"What used to take hours in a laboratory, now can take minutes," Tian said. "We've greatly accelerated the step in removing human material, which is critical in biodefense applications such as the sequencing and identification of novel infectious agents."
This fall, Inso Biosciences will use the state funding to begin their product's prototype development, as the company prepares to pursue and collaborate with potential partners in validation studies.
In addition to Tian, the Inso Biosciences co-founders are Adam Bisogni '08, Ph.D. '17, co-founder and chief scientific officer; and Professor Emeritus Harold Craighead, co-founder and scientific advisor, who is a veteran of technology commercialization with his co-founding of Pacific Biosciences (NASDAQ: PACB), a previous Cornell startup from his research group.
Halomine's antimicrobial coating technology helps to maintain germ-free surfaces – such as stair rails, escalator handrails, food product conveyors and food preparation tables – by extending the life of chlorine-based disinfectants by days and weeks.
Normally, a chlorine disinfectant lasts up to 15 minutes, but the group's main product, HaloFilm, is a spray-on, nontoxic chlorine extender that leaves a protective film, according to Ted Eveleth, MBA '90, the CEO of Halomine.
With the state grant, the company hopes to develop a new product, HaloAdd – an antimicrobial plastics additive – to create commercial food processing tools and medical devices such as catheters and ultrasound wands.
"Ideally, you want to make these plastic products embedded with antimicrobial properties," Eveleth said, "but there are limited ways to do that. We think we have found the way."
Pending regulatory approval, the product HaloFilm is nearly ready for commercialization, but the new HaloAdd has been proven-in-concept in the laboratory and the company looks to optimize the research, according to Eveleth.
In addition to Eveleth, Halomine officials are co-founder Mingyu Qiao, chief technical officer; and co-founder Minglin Ma, Cornell associate professor, biological and environmental engineering.