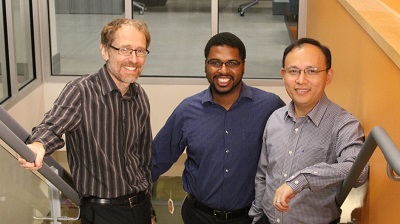 As more enterprises continue to expand their online operations due to the pandemic, the need for high-quality and budget-friendly cloud-optimization solutions are on the rise—renting servers in the cloud from cloud providers can easily consume 50% of a company's revenue. Exotanium, a software startup founded by faculty and researchers in the Cornell Ann S. Bowers College of Computing and Information Science and based on technology licensed through Cornell's Center for Technology Licensing, helps companies reduce wasteful spending and leverage available cloud resources more efficiently.
Earlier this week, Exotanium announced completing a $5 million seed funding round led by Walden International and Nepenthe Capital LLC. This latest round of funding builds on an exceptional year for Exotanium, which also completed a successful pilot with software company, Autodesk, Inc.
"We are excited to partner with our new investors," said Hakim Weatherspoon, CEO and co-founder of Exotanium. "This funding will help us accelerate our product and customer roadmap execution and expand the adoption of our technology across a range of industries and innovative applications seeking to dramatically reduce their cloud spend."
Weatherspoon founded the company in 2018 with co-founders and fellow Cornell researchers, Zhiming Shen, CTO, Ph.D. '17 and Robbert van Renesse, chief scientist. Exotanium's technology—based on Shen's doctoral research—allows customers to take advantage of deeply discounted server space on the cloud spot market, which consists of unused servers that large providers—think Amazon, Google, or Microsoft—rent out at 10 times less than the average rate. Exotanium's cloud-scale software systems are able to harness this unused cloud storage by automatically moving a customer's applications from one server to another without interruption. This solution offers businesses substantial cloud savings—reducing spending by up to 90%—while also enhancing both operational security and performance.
"I am pleased to co-lead this seed financing of Exotanium with Amarjit Gill, partner of Nepenthe Capital LLC" said Lip-Bu Tan, chairman of Walden International and managing director of WRVI Capital. "We will partner with Exotanium to expand their cloud-optimization solutions."
Since its inception, Exotanium has leveraged many resources in Cornell and upstate New York's entrepreneurial ecosystem. The company is a member of the Praxis Center for Venture Development, Cornell's on-campus incubator for startups in engineering, digital, and physical sciences, as well as a member of Rev: Ithaca Startup Works, a community business incubator located in Ithaca, New York. Exotanium is also a graduate of the Upstate New York I-Corps and National Science Foundation I-Corps Teams programs, which offer funding and mentorship, and received pre-seed funding from Launch NY and Red Bear Angels.
Exotanium plans to use the new round of funding to scale-up the company with a focus on building a strong technical team, acquiring additional customer sign-ups, and expanding its product offerings.